Thermaltake View 31 Tempered Glass ARGB Edition Mid Tower Chassis
The View 31 Tempered Glass ARGB Edition mid tower chassis features dual durable 4mm thick tempered glass windows, a riser GPU support bracket with an optional PCI-e riser cable, and three preinstalled patented 140mm ARGB fans to deliver RGB illumination while ensuring outstanding cooling performance. The View 31 TG ARGB supports the latest PC hardware and all high-end GPU solutions. This guarantees unparalleled expandability for high-end configurations and liquid cooling, satisfying the market where users have opted to create a stylish PC build with advanced features and an aesthetic appeal.
The image is for reference only.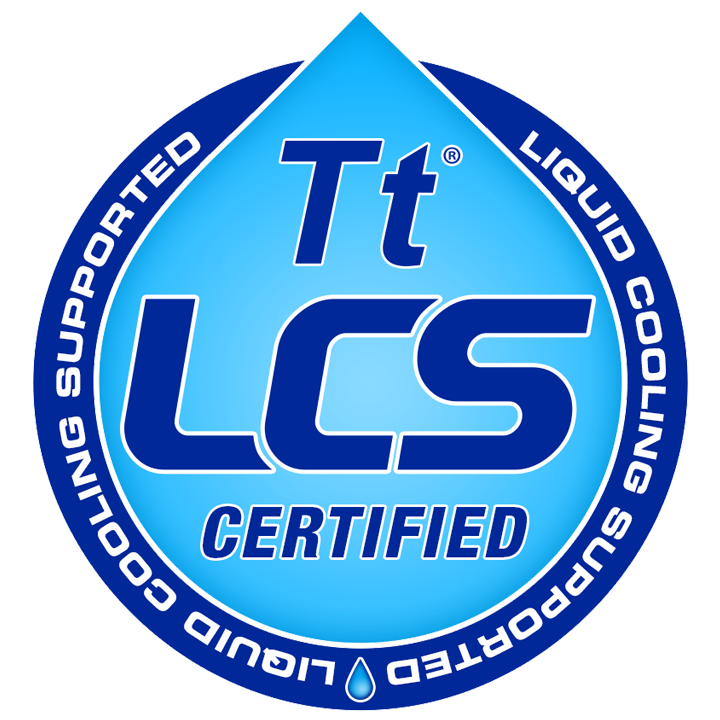 Tt LCS Certified
Tt LCS Certified is a Thermaltake exclusive certification applied to only products that pass the design and hardcore enthusiasts standards that a true LCS chassis should be held to. The Tt LCS certification was created so that we at Thermaltake can designate to all power users which chassis have been tested to be best compatible with extreme liquid cooling configurations to ensure you get the best performance from the best features and fitment.
The image is for reference only.
3 Built-in 140mm 5V ARGB Fans
The View 31 TG ARGB comes with three preinstalled 140mm 5V ARGB fans with two at front and one on the back. The fans features 9 addressable LEDs, hydraulic bearings, and 16.8 million-color illumination to guarantee high airflow and awesome lighting modes.
The 5V ARGB fans can be controlled by using a simple interface built into the I/O panel that cycles through 7 different lighting modes and a range of different color options or through your motherboard software.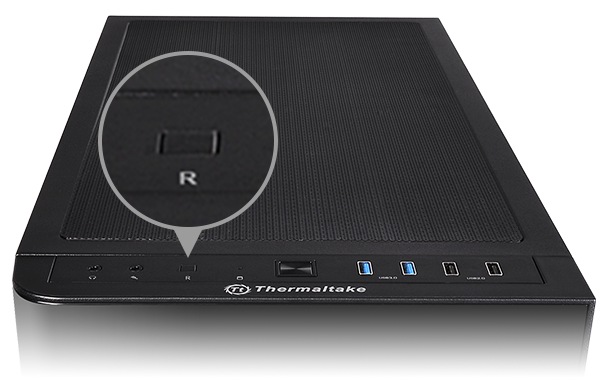 Sync with Motherboard RGB Software
Designed to synchronize with ASUS Aura Sync, GIGABYTE RGB Fusion, MSI Mystic Light Sync and ASRock Polychrome. It supports motherboards that have a 5V addressable RGB header, allowing you to control the lights directly from the above-mentioned software without installing any extra lighting software or controllers. For more details, please visit ASUS, GIGABYTE, MSI and ASRock official websites.
Left and Right 4 mm Thick Tempered Glass Window Design
View 31 TG ARGB with left and right 4 mm thick tempered glass window guarantees the durability of the window; moreover, the enlarged window design permits users to fully display and admire all components of the liquid-cooling system. Show off your dedicated set in the subtlest manner!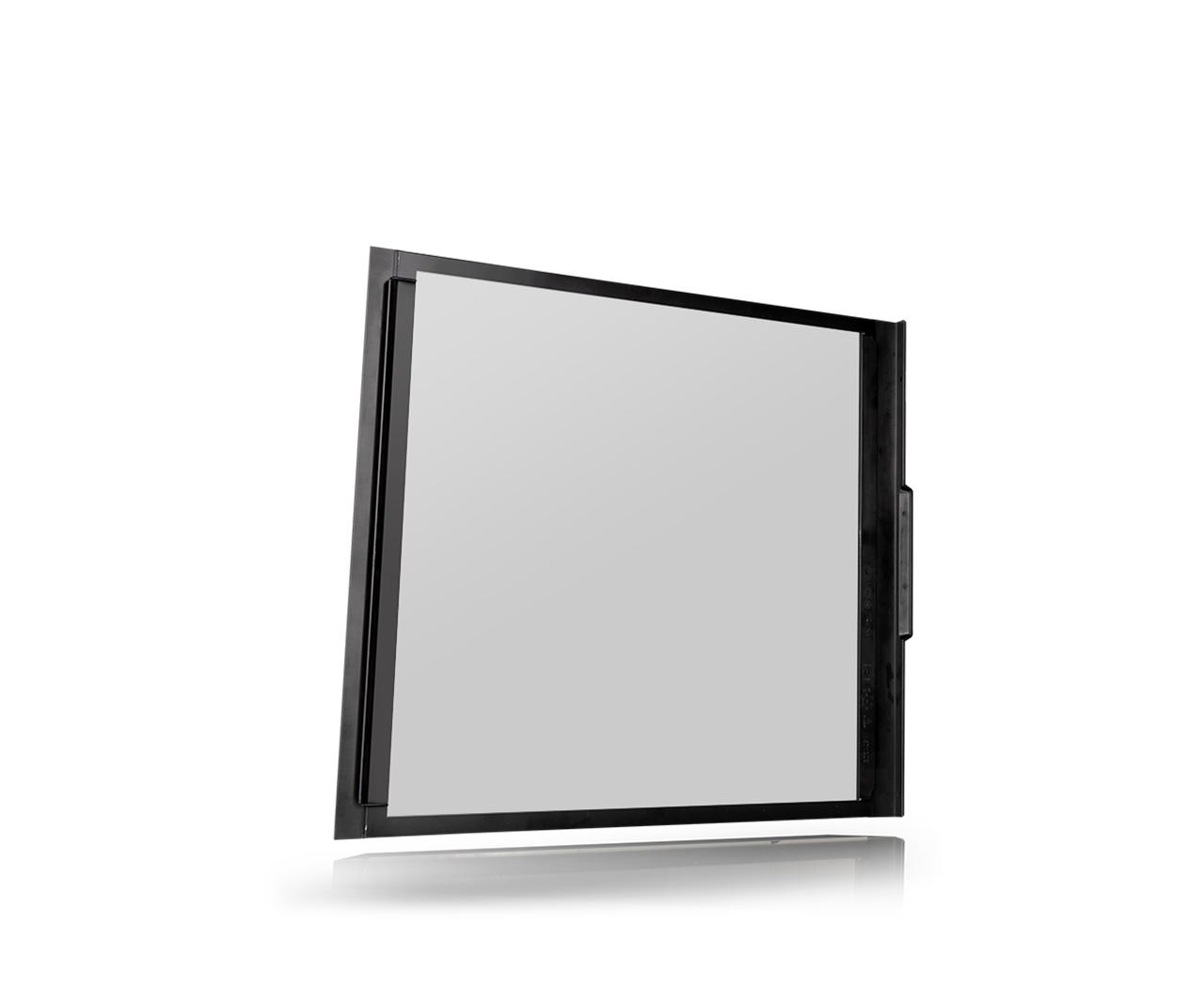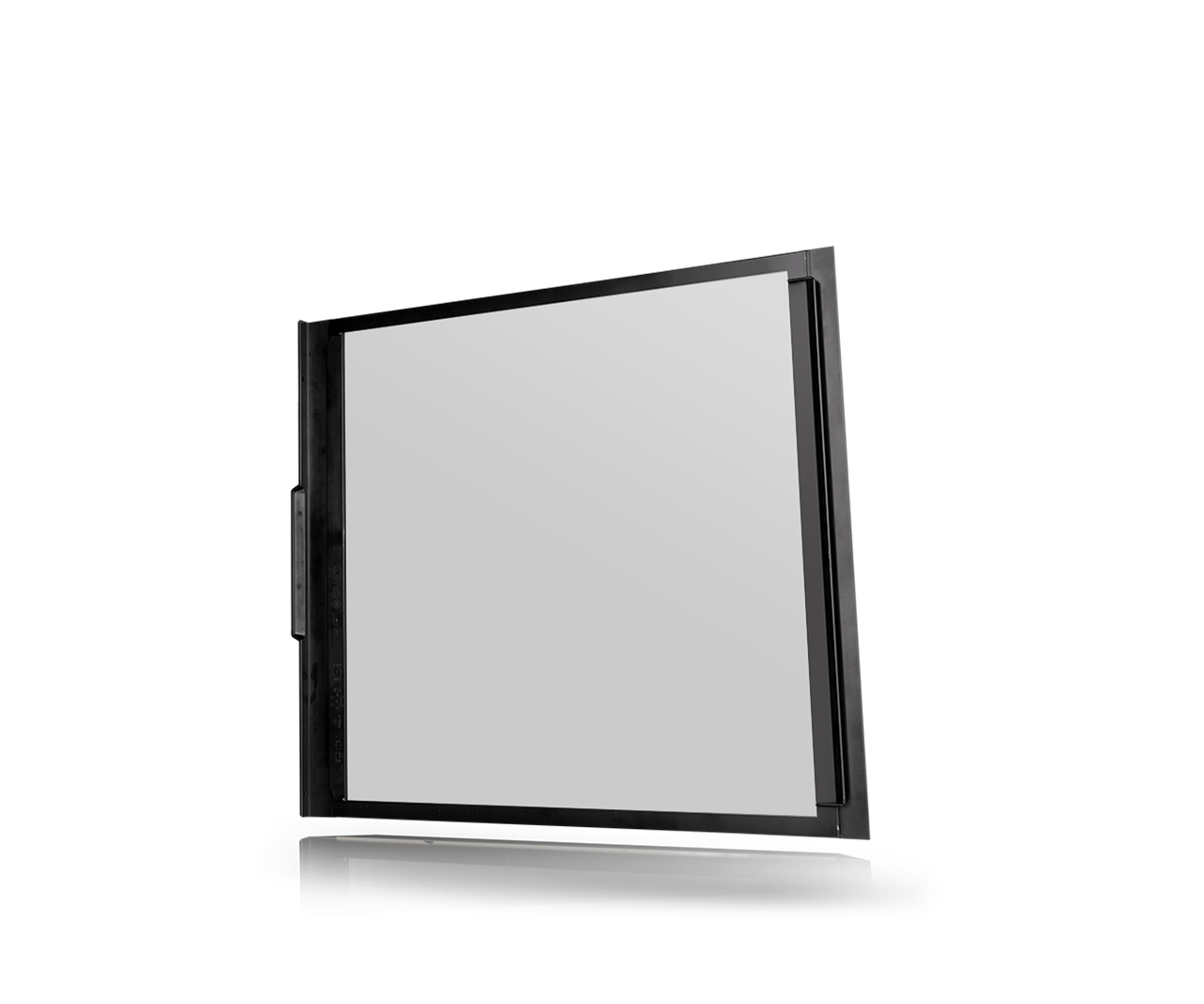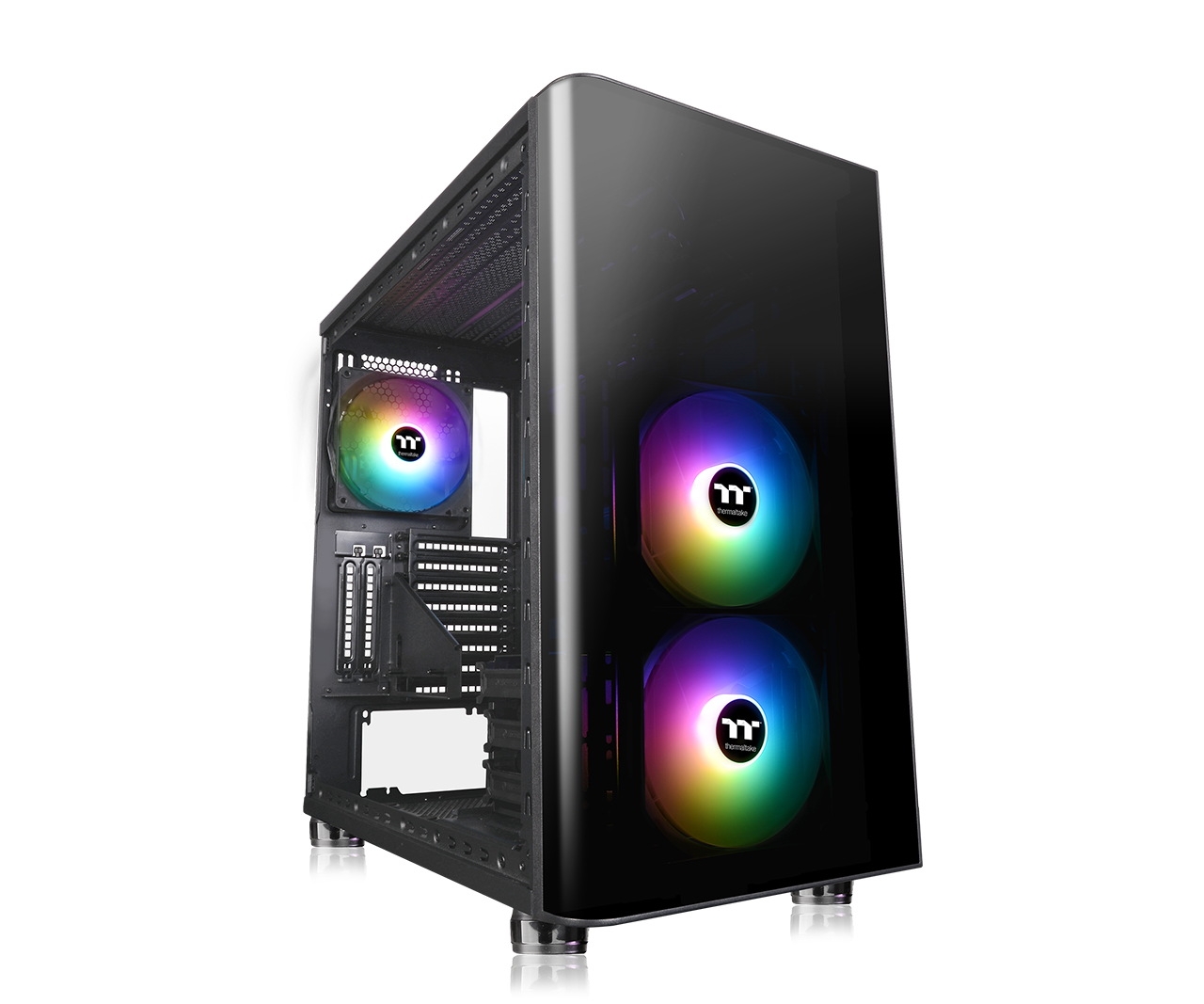 Full Modular Concept
The View 31 TG ARGB comes with full modular drive cages that allow easy installation/removal and maximizes the interior space for custom cooling loops. Above all, the tool-less drive bay design allows users to freely interchange the 3.5" and 2.5" hard-drives to suit their particular needs.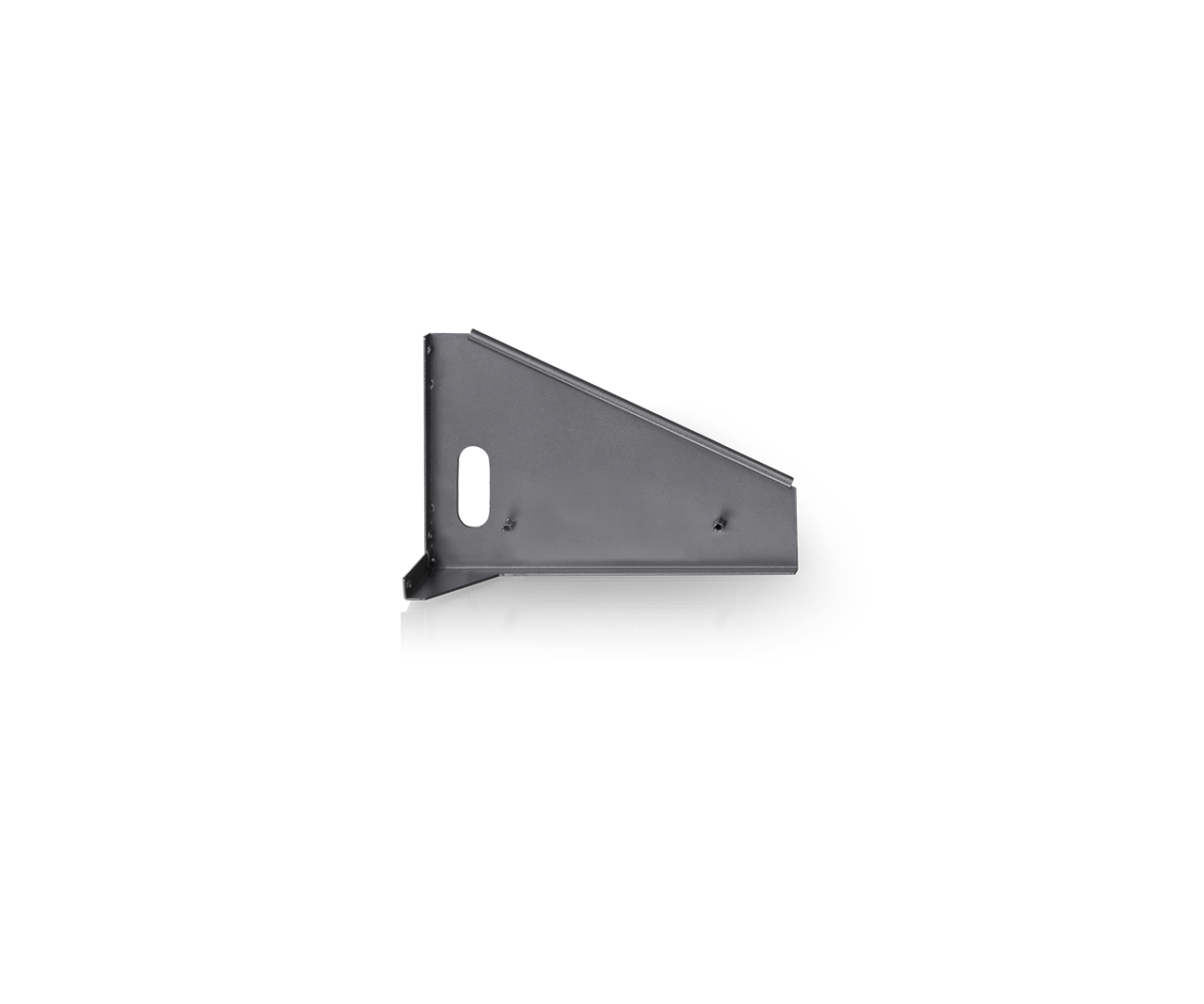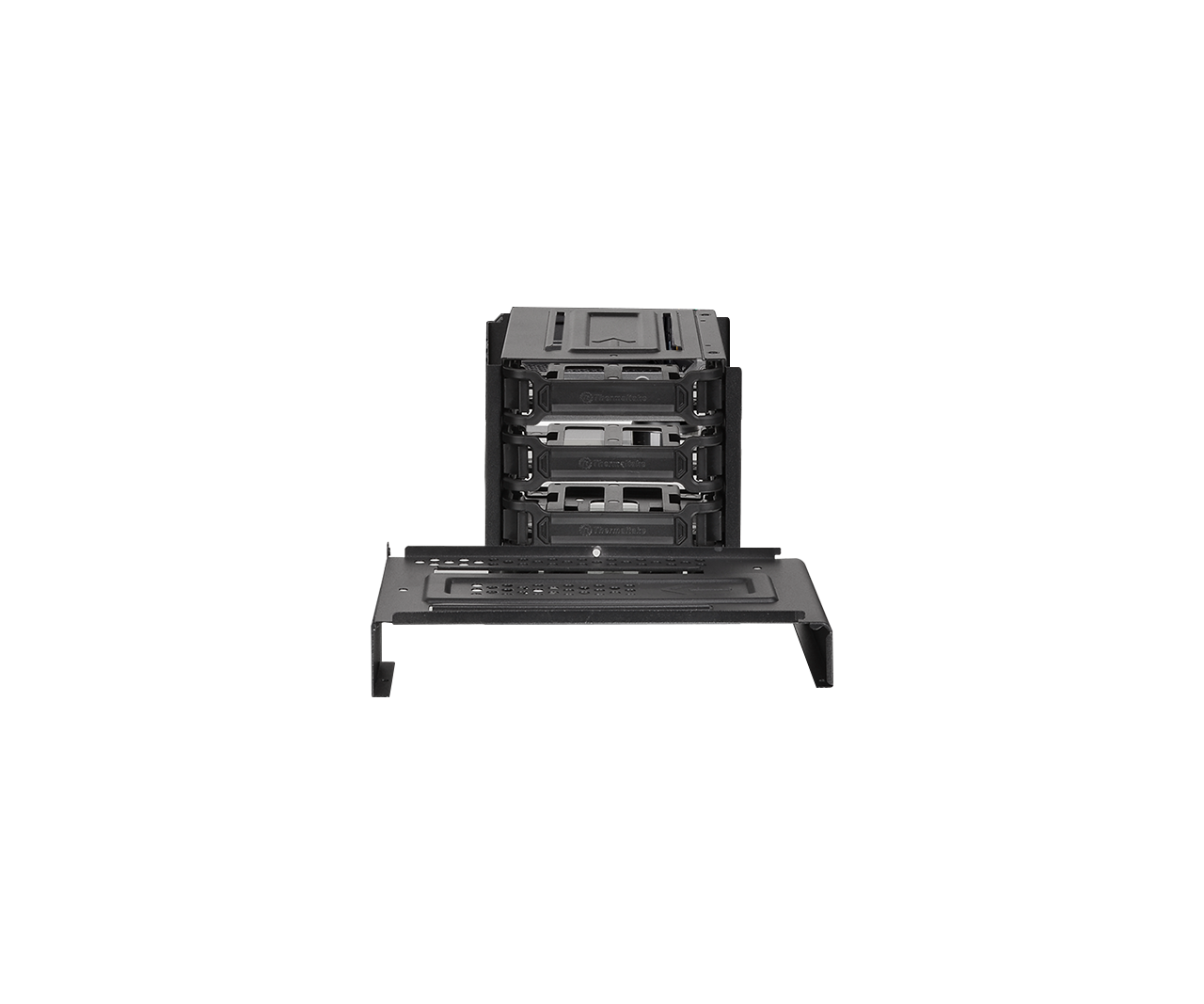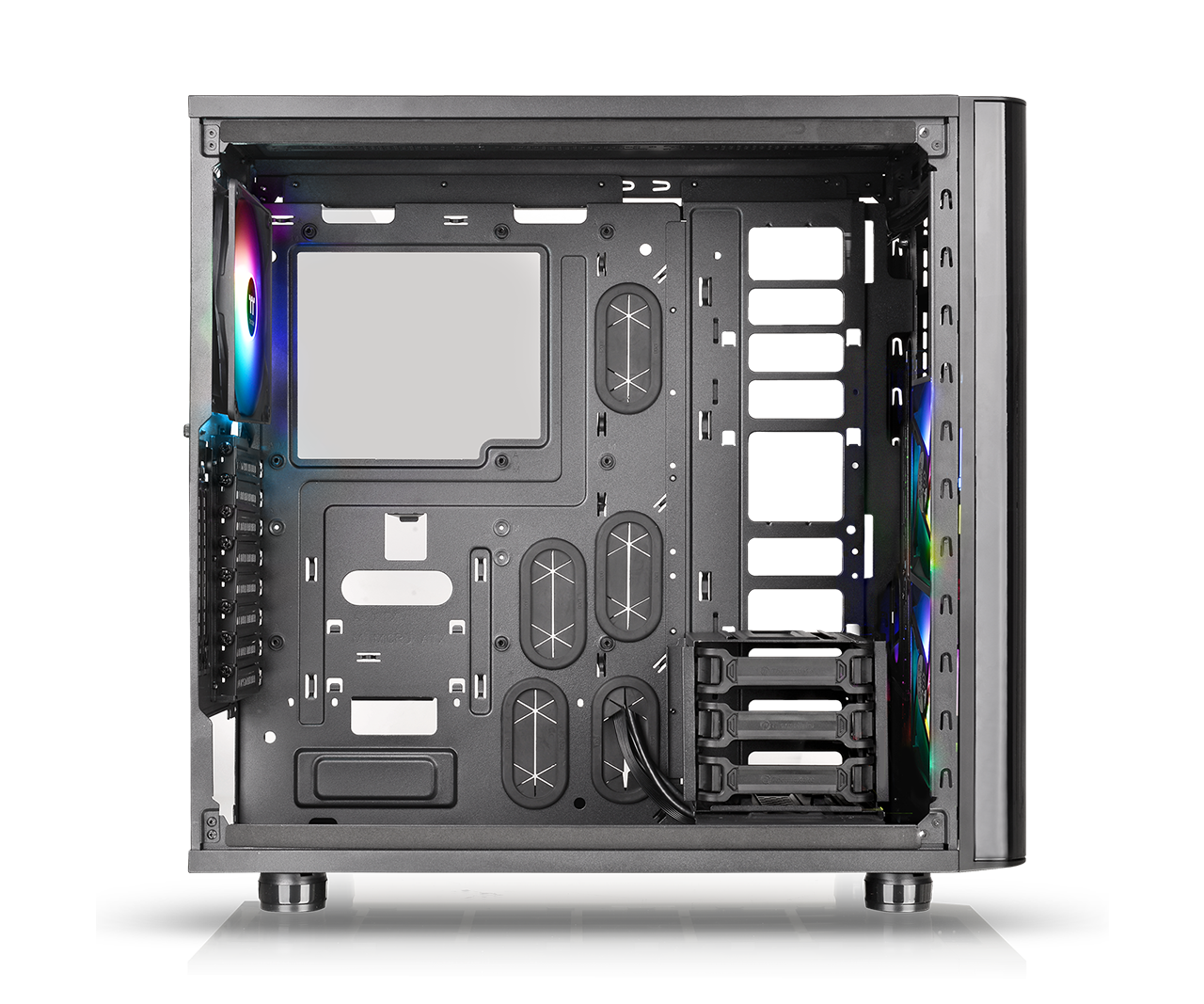 Riser GPU Support Bracket
Specially designed with an dual GPU placement option, the View 31 TG ARGB has the support for vertical graphic card layouts with dual PCI-E slot designs. The PCI-e riser cable is optional. Plus, the included riser GPU support bracket not only can prevent the graphic card from sagging, but also helps to reduce the weight on the motherboard. Thermaltake PCI-e X16 Riser Cable (Optional) – Supports a wide range of GPU solutions.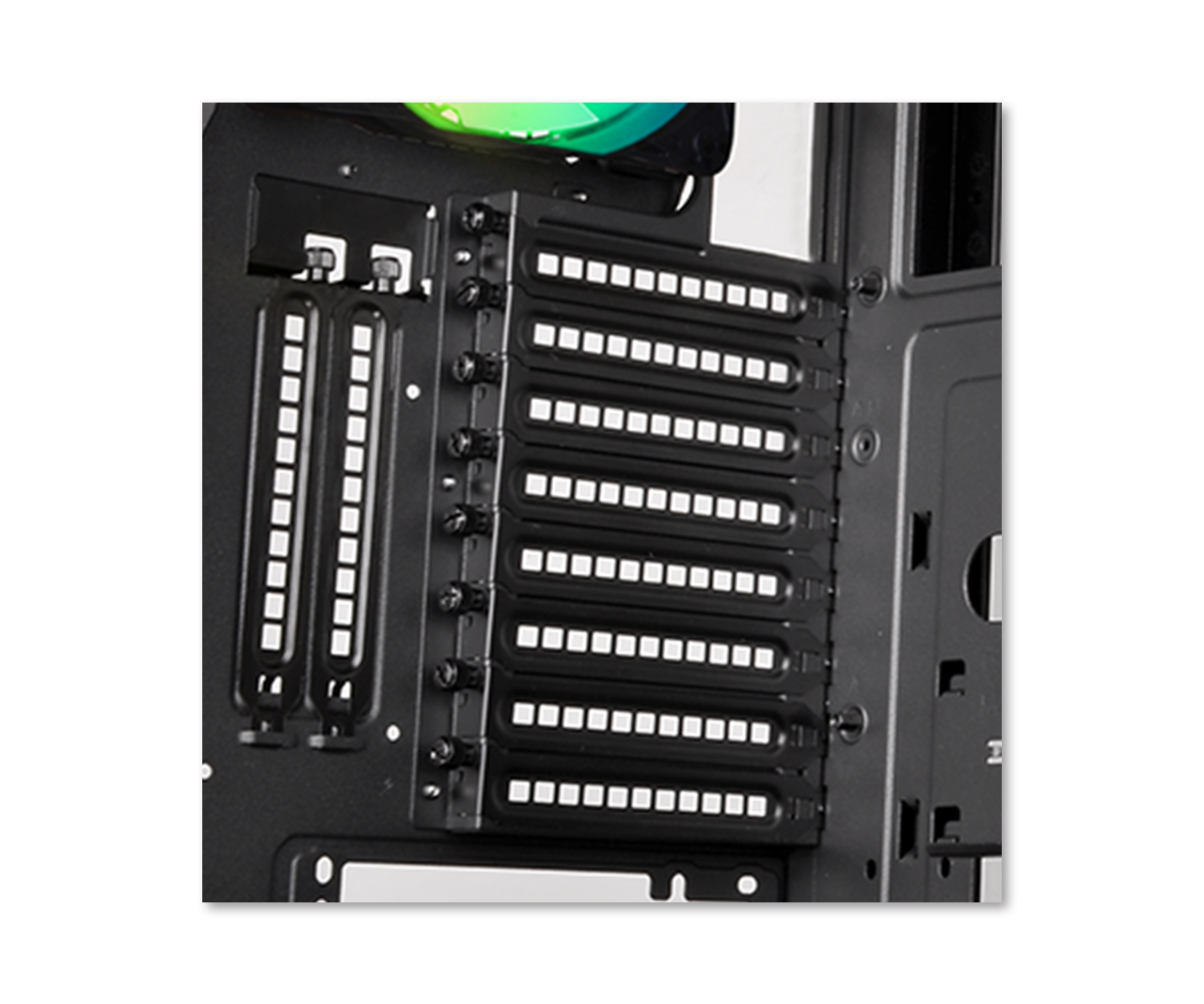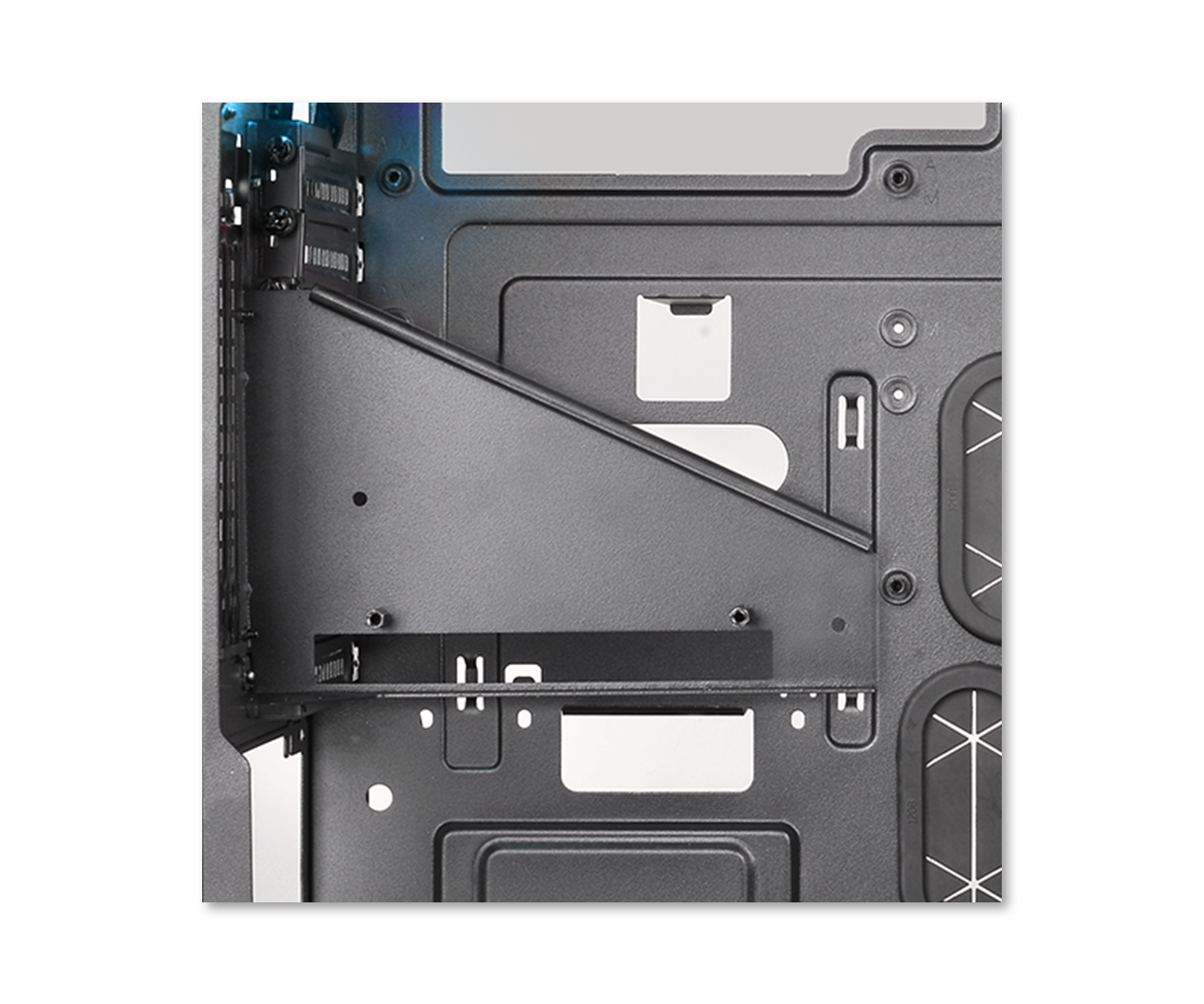 The image is for reference only.
Suggested VGA thickness up to 50mm(2.5 -slot reference card standard) with 7mm space for ventilation.
Dust Reduction
Magnetic fan filter on the top simply attaches the filter for dust filtration. Super fine fan filters with excellent protection and reduction against dirt and dust at the base.
Made for High-End PCs with Outstanding Expandability
The View 31 TG ARGB is easy for cable management with a maximum 50mm in width to work with, and supports up to a tower CPU cooler with a maximum height of 180mm, and a dual VGA expansion slot of up to 420mm in length without HDD rack. Moreover, the View 31 TG ARGB has the ability to accommodate multiple 3.5"/2.5" storage devices at the same time. Most importantly, the hidden drive bay design guarantees expandability for more liquid cooling components.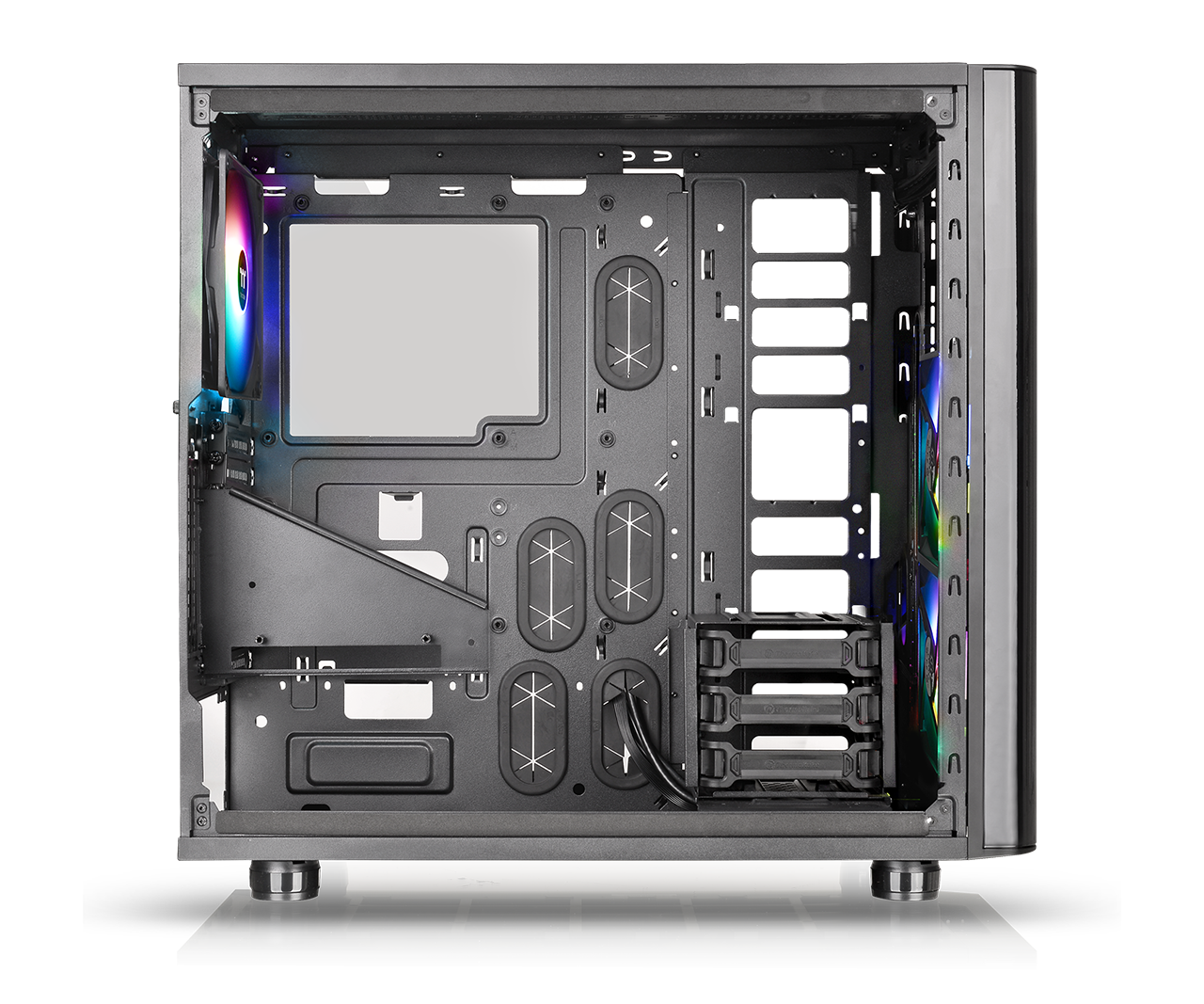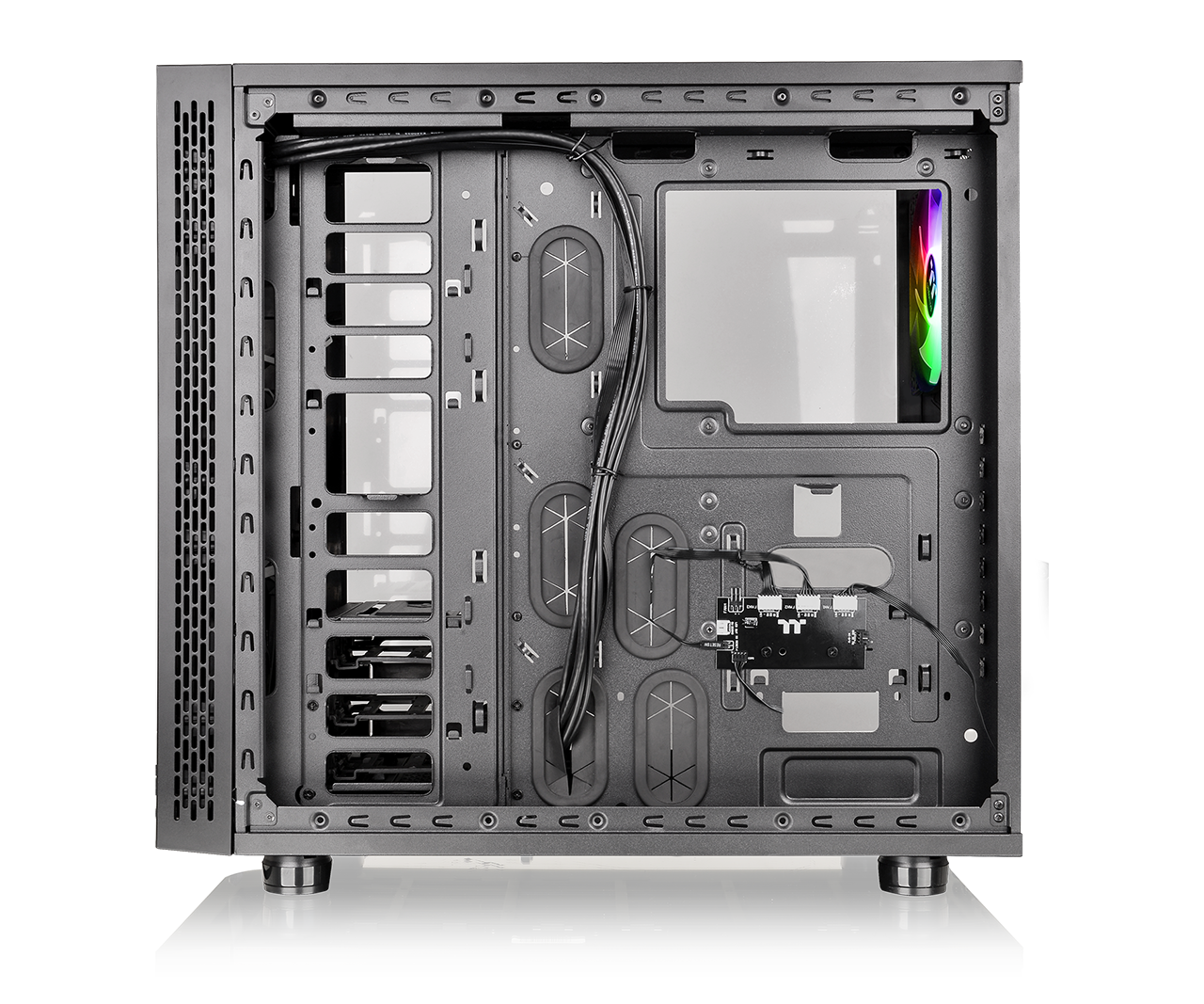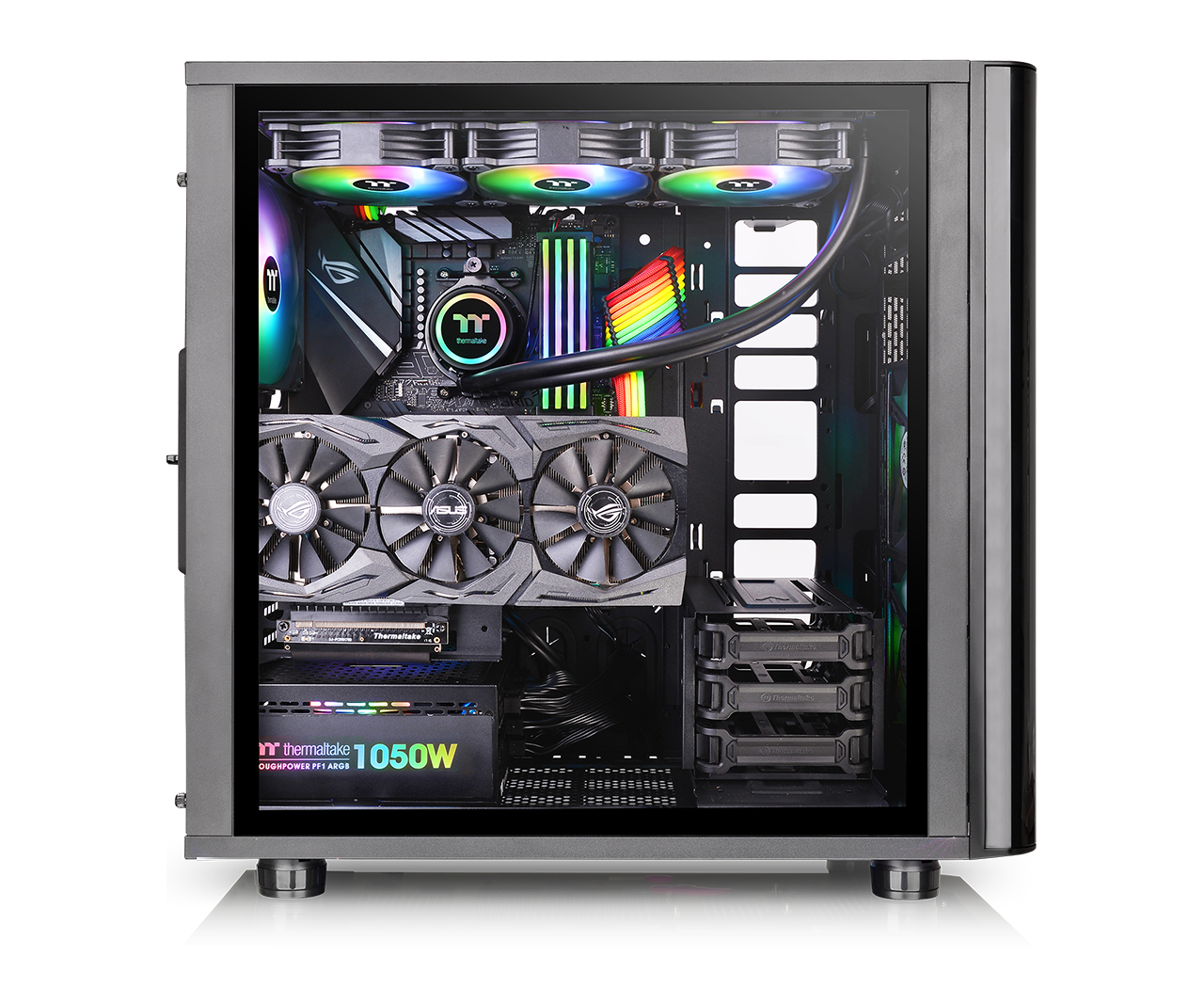 Advanced Ventilation
The View 31 TG ARGB delivers advanced cooling performance for DIY/AIO liquid cooling and air cooling systems. With wide top-to-bottom side ventilation grills, the View 31 TG ARGB maximizes the air intake with three built-in 140mm ARGB fans. It includes options for up to three 120mm, two 140mm, or one 200mm front fans, combined with two bottom mount fan, 120mm or 140mm, locations for maximum fan space selection. Besides, it can hold up to two 200mm fans on the top. Dissipate heat properly with one rear built-in 140mm fan and three sectional top mounts to manage proper air flow in and out.
The image is for reference only.
Radiator Support List
Radiator Compatibility List
| | 120mm | 240mm | 360mm | 140mm | 280mm |
| --- | --- | --- | --- | --- | --- |
| Front | ● | ● | ● | ● | ● |
| Top | ● | ● | ● | ● | ● |
| Rear | ● | - | - | ● | - |
| Bottom | ● | - | - | ● | - |
All-in-One Compatibility List
(Water 3.0 and Floe series)
| | Perform | Pro | Extreme | Ultimate |
| --- | --- | --- | --- | --- |
| Front | ● | ● | - | - |
| Top | ● | ● | ● | ● |

Fan Support List
Fan Compatibility List
| | 120mm | 140mm | 200mm |
| --- | --- | --- | --- |
| Front | 3 | 2 | 1 |
| Top | 3 | 3 | 2 |
| Rear | 1 | 1 | - |
| Bottom | 2 | 2 | - |
Thermaltake Compatible Fan
| | 120mm | 140mm | 200mm |
| --- | --- | --- | --- |
| PURE FAN Series | ● | ● | ● |
| LUNA FAN Series | ● | ● | ● |
| Riing FAN Series | ● | ● | - |

Więcej informacji
P/N
CA-1H8-00M1WN-02
Saria
View
Model
View 31 TG ARGB
RODZAJ OBUDOWY
Mid Tower
Wymiar (Wys. x Szer. x Gł.)
497 x 250 x 511 mm
(19.5 x 9.8 x 20.1 inch)

PANEL BOCZNY
4mm Tempered Glass x 2 (Left & Right)
Kolor
Exterior & Interior : Black
MATERIAŁ
SPCC
SYSTEM CHŁODZENIA
Front (intake) :
140 x 140 x 25 mm ARGB fan (1000rpm, 22.8 dBA) x 2
Rear (exhaust) :
140 x 140 x 25 mm ARGB fan (1000rpm, 22.8 dBA)

Zatoki dyskowe
-Dostępne
-Ukryte

-
3 x 3.5'' or 2.5'' (HDD Cage)

GNIAZDA ROZSZERZEŃ
8 + 2
PŁYTY GŁÓWNE
6.7" x 6.7" (Mini ITX), 9.6" x 9.6" (Micro ATX), 12" x 9.6" (ATX)
PORTY WE/WY
USB 3.0 x 2, USB 2.0 x 2, HD Audio x 1, RGB Button x 1
ZASILACZ
Standard PS2 PSU (optional)
WSPARCIE WENTYLATORÓW
Front:
3 x 120mm , 2 x 140mm , 1 x 200mm
Top:
3 x 120mm , 3 x 140mm , 2 x 200mm
Rear:
1 x 120mm , 1 x 140mm
Bottom:
2 x 120mm , 2 x 140mm

WIELKOŚĆ CHŁODNICY
Front:
1 x 360mm , 1 x 280mm
Top:
1 x 360mm , 1 x 280mm
Rear:
1 x 120mm , 1 x 140mm
Bottom:
1 x 120mm , 1 x 140mm

PRZEŚWIT
CPU cooler height limitation: 180mm
VGA length limitation: 278mm(with HDD rack)
420mm(without HDD rack)
PSU length limitation: 180mm (With One Bottom Fan)
220mm (Without Bottom Fan)