Thermaltake View 27 Gull-Wing Window ATX Mid-Tower Chassis
Game in a new perspective with the Thermaltake View 27 Mid-Tower Gaming Chassis. Designed with a transparent gull-wing window panel, take in the view with advanced floating GPU mounting system and skylight viewing. Add in options for air or liquid cooling, supporting up to 360mm radiators for optimized cooling performance. Tinted front panel gives users a clean look with options for LED Fan lighting to shine through and side ventilation panels for proper air flow. Built-in full length power supply cover give a steam-lined look with mounting options for LCS cooling and Case Fan options. See the vision of next generation gaming chassis with the Thermaltake View 27.
Taiwan Patent Application: 105304329
China Patented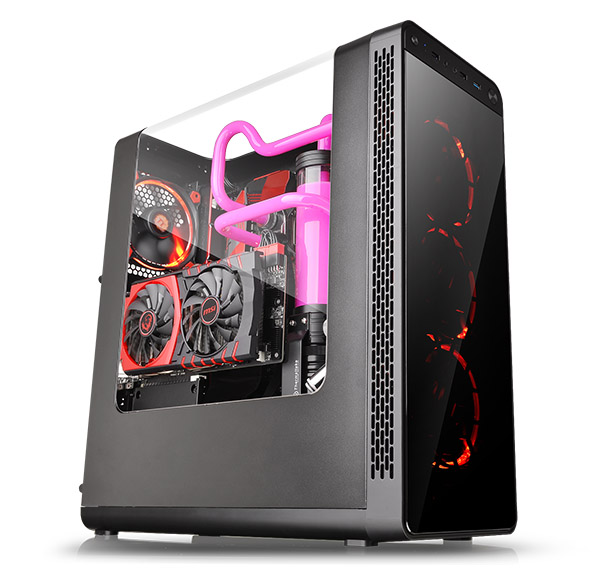 Tt LCS Certified
Tt LCS Certified is a Thermaltake exclusive certification applied to only products that pass the design and hardcore enthusiasts standards that a true LCS chassis should be held to. The Tt LCS certification was created so that we at Thermaltake can designate to all power users which chassis have been tested to be best compatible with extreme liquid cooling configurations to ensure you get the best performance from the best features and fitment.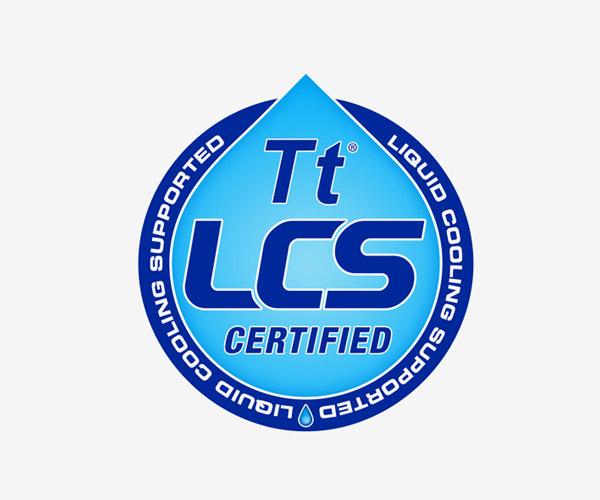 Gull-Wing Window Design
The enlarged window panel with wraparound design advanced the View 27 visual presentation, that permit users to show off their dedication and skill set unlike any other cases on the market.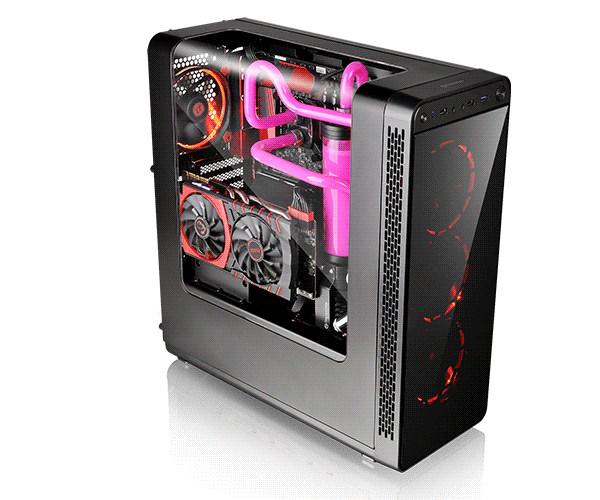 Tool-Free Installation
The innovative 3.5" & 2.5" tool-free drive bay design minimizes the hassles of installation and removal, whilst allowing users to freely interchange the hard-drive cages to suit their particular needs. The dual drive bay concept of "2+4" offers a good ration for accessories and storage devices. Power cover design is another unique feature of the View 27. The entire bottom area can be used to reorganize unused cables, which makes for a tidy-looking system.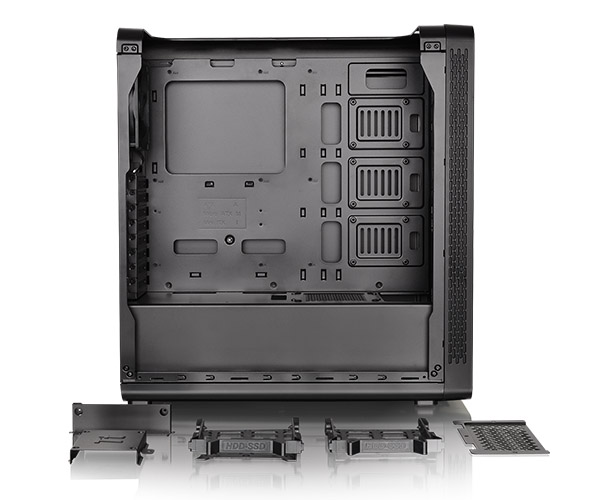 Superior Hardware Support
The View 27 supports motherboards up to standard ATX, a tower CPU cooler with maximum height 155mm, and a dual expansion slot VGA of up to 410mm in length without front fan. Users can also place the VGA either vertically or horizontally. Moreover, with the modular drive cage design, users can easily mount up to two 3.5"/2.5" or four 2.5" storage devices into the build.

Thermaltake PCI-e X16 Riser Cable (Optional) – Support a wide range of GPU solutions.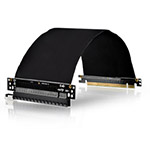 Learn More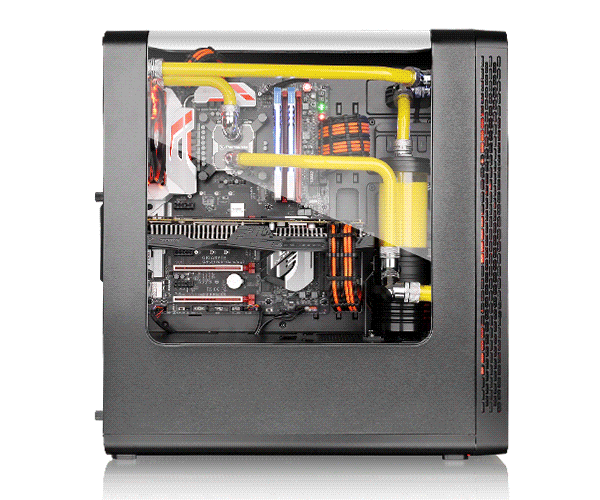 Complete Liquid Cooling Solution
The View 27 has the capability to deliver an outstanding cooling efficiency throughout the entire case. At the front of the case, users can install up to either 360mm DIY liquid cooling radiator, or 360mm AIO liquid cooler, with a long graphic card at the same time. Additionally, a 120mm exhaust fan is preinstalled at the rear to optimize system ventilation. To keep the interior dust free, all intake ventilation holes are specially designed with removable dust filters.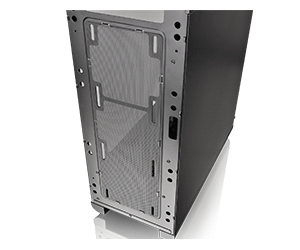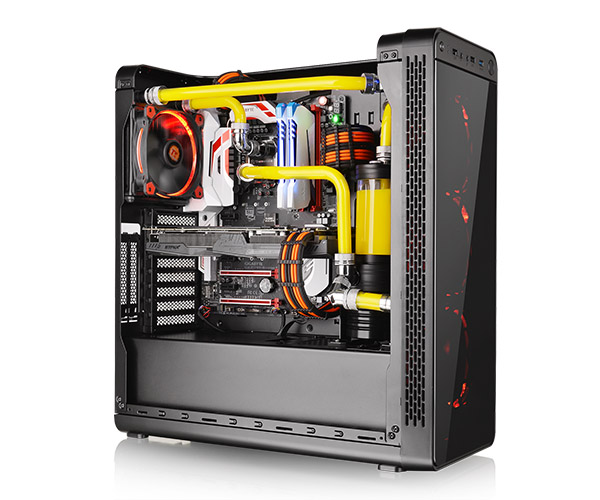 View 27 Radiator Supporting List
Radiator Compatibility List
(Thickness up to 30mm without fan)
120mm
240mm
360mm
Front

*

*

*

Top
Rear

*
All-in-One Compatibility List
(Water 3.0 Series)
120mm (Performer)
240mm (Extreme)
360mm (Ultimate)
Front

*

*

*

Top
Rear

*
View 27 Radiator Supporting List
Fan Compatibility List
120mm
Front
3
Top
Rear
1
Thermaltake Compatible Fan
120mm
Pure Fan Series

*

Luna Fan Series

*

Riing Fan Series

*
Więcej informacji
P/N
CA-1G7-00M1WN-00

Saria
View
RODZAJ OBUDOWY
Mid Tower
Wymiar (Wys. x Szer. x Gł.)

508 x 201 x 479mm

(20 x 7.9 x 18.8 inch)

WAGA NETTO
6.4 kg / 14.1 lb

PANEL BOCZNY
Transparent Window

Kolor
Exterior & Interior : Black

MATERIAŁ
SPCC
SYSTEM CHŁODZENIA

Rear (exhaust) : 120 x 120 x 25 mm fan (1000rpm, 16dBA)

Zatoki dyskowe
-Dostępne
-Ukryte

-Accessible :

-Hidden :

2 x 3.5'' or 2.5''(with HDD tray)

4 x 2.5'' (with the M/B tray)

GNIAZDA ROZSZERZEŃ
8 + 2
PŁYTY GŁÓWNE
6.7" x 6.7" (Mini ITX), 9.6" x 9.6" (Micro ATX), 12" x 9.6" (ATX)
PORTY WE/WY
USB 3.0 x 1,USB 2.0 x 2, HD Audio x 1

ZASILACZ
Standard PS2 PSU (optional)
WSPARCIE WENTYLATORÓW
Front:
3 x 120mm
Rear:
1 x 120mm
Power Cover:
1 x 120mm
WIELKOŚĆ CHŁODNICY

Front:1 x 360mm

Rear: 1 x 120mm

PRZEŚWIT
CPU cooler height limitation: 155mm VGA length limitation: 410mm (Without Front Fan) PSU clearance limitation: 180mm
Suggested VGA thickness up to 40mm (2-slot reference card standard) with 7mm space for ventilation.
User Manual
Nazwa pliku
Opis
Rozmiar
Version
Release Date