Thermaltake Versa H35 Window Mid-tower Chassis
The new Thermaltake Versa H35 Window mid-tower chassis is especially designed for gamers as well as home-computer builders. With modular drive racks design, Versa H35 creates enough spaces for high-end hardware and expansion. The ample ventilation options, cleanable air filter, and a perforated mesh bezel help to keep the entire system cool and dust-free. Also, Versa H35 delivers advanced liquid cooling solutions and stress-free cable management to customize user's computer or gaming system.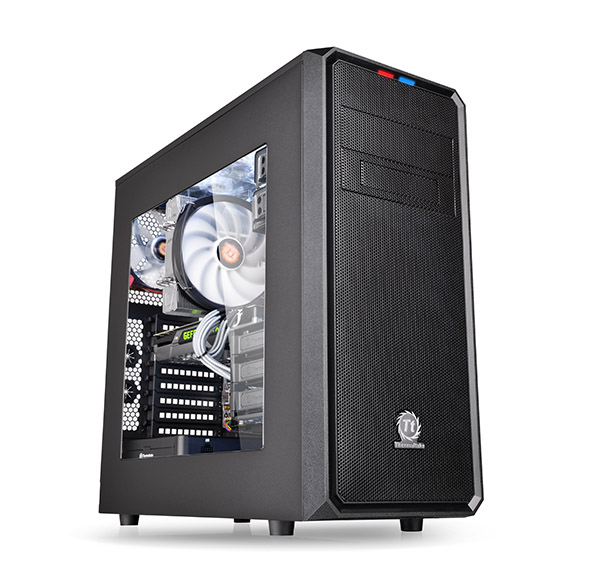 Built for Gamers
Designed for gamers, the perforated top and bottom panels with magnetic dust filters allow easy heat dissipation and rapid air intake for maximum ventilation. The heighten foot-stands at the bottom help to enhance airflow and overall stability during operation. Featuring a transparent side window to offer a direct view of the inner system.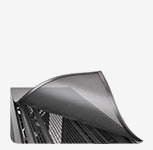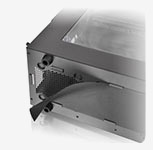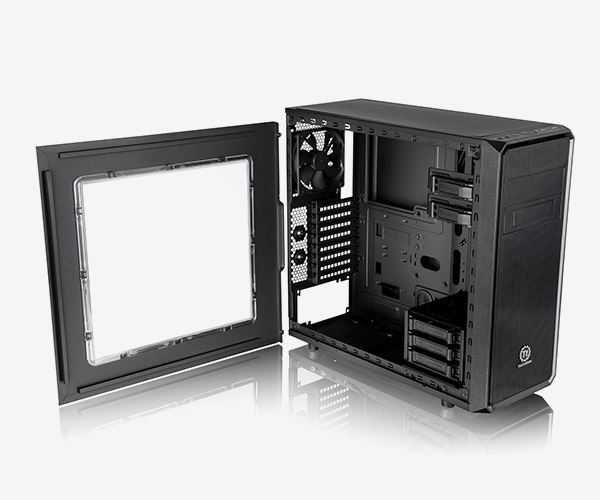 Tool-free Installation
Innovative 5.25" & 3.5" tool-free drive bay design minimized the hassles of installing/removing. Dual drive bay concept "2 + 3", a perfect ratio for accessory and storage devices, granting ease and flexibility on setting up the best storage solution.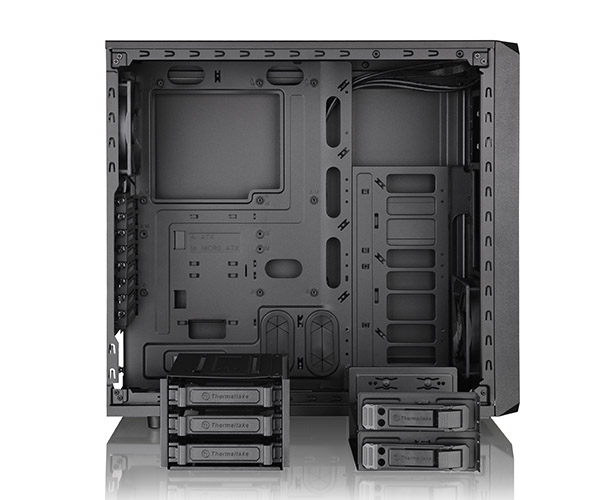 Stress-free Cable Management
Wide cable routing gap for easy cable management and hiding cables behind motherboard tray, to ensure smoothness for build and tinker (upgrade), reduce wiring tangled, as well as better airflow and dust management. Additionally, pre-mounting holes to support motherboards up to standard ATX and CPU cooler installation, long graphic cards also supported as well as Liquid Cooling System.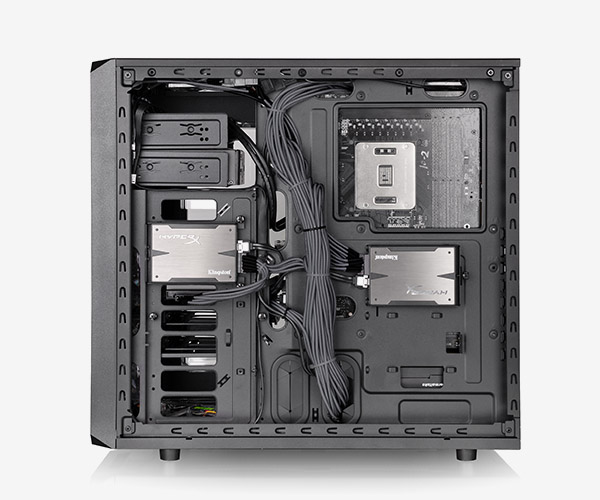 Optimized Ventilation
Two preinstalled 120mm turbo fans with removable filters spin up to 1000RPM. The optional 120mm intake fan and removable fan mounting dust filters at top and bottom PSU filter to optimize system ventilation.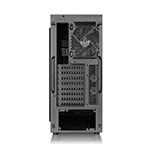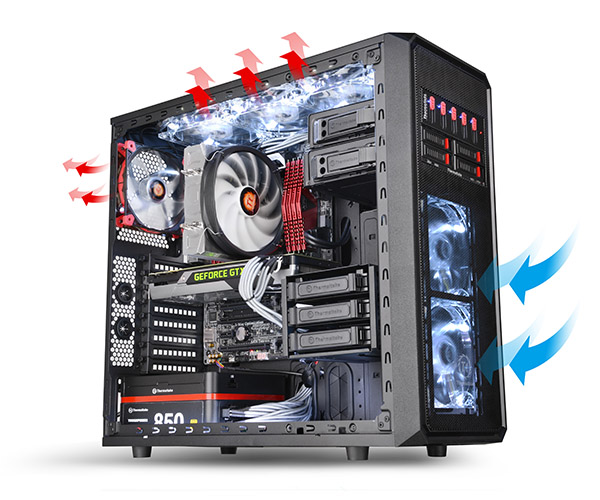 Complete System on the Go
Versa H35 enables user to build a complete high-end solution, supporting up to 360mm radiator liquid cooling system with long graphic card. Versa H35 protects user's hardware and increase CPU's overclocking potential. Most importantly, to delivers outstanding cooling efficiency in the entire case.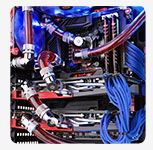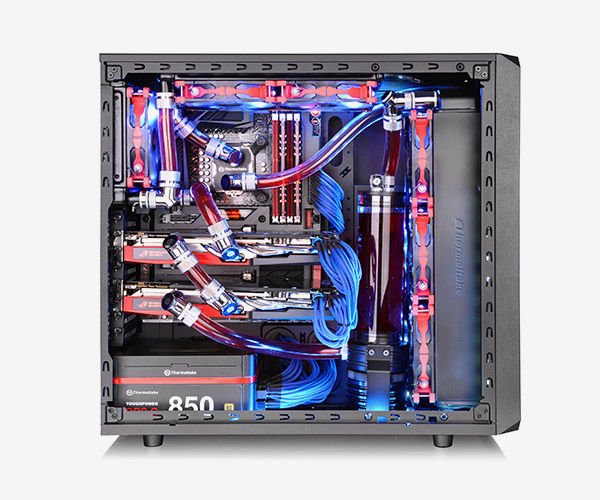 Tt LCS Certified
Tt LCS Certified is a Thermaltake exclusive certification applied to only products that pass the design and hardcore enthusiasts standards that a true LCS chassis should be held to. The Tt LCS certification was created so that we at Thermaltake can designate to all power users which chassis have been tested to be best compatible with extreme liquid cooling configurations to ensure you get the best performance from the best features and fitment.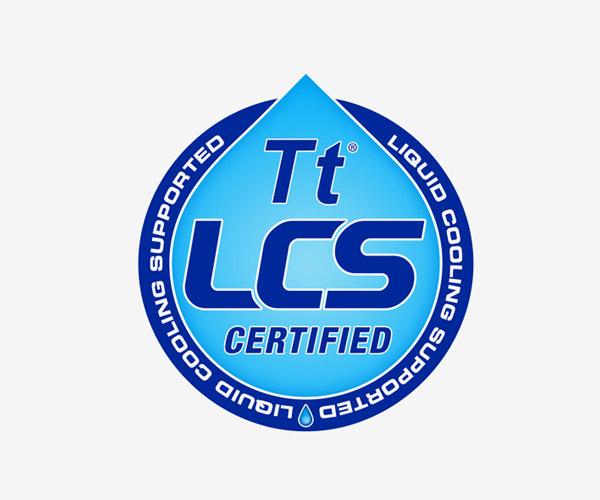 Versa H35 Radiator Supporting List
Radiator Compatibility
120mm
140mm
240mm
280mm
360mm
Front
*
*
*
*
*
Top
*
*
*
Rear
*
Bottom
Water 3.0 Compatibility List
Ultimate
Extreme
Pro
Performer
Front
*
*
*
*
Top
*
*
*
*
Rear
*
*
Bottom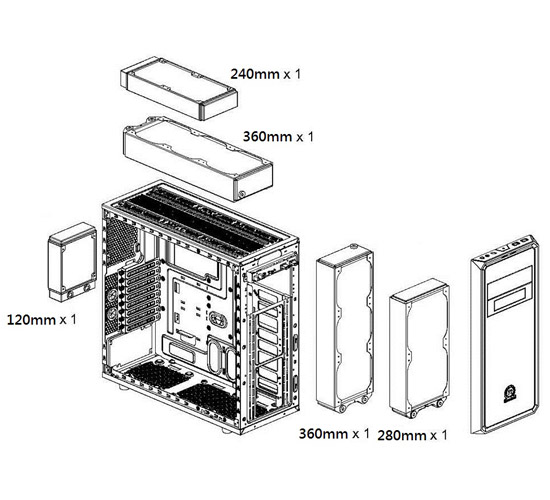 Versa H35 Fan Supporting List
Fan Compatibility List
120mm
140mm
Front
2
2
Top
3
3
Rear
1
-
Bottom
1
-
Thermaltake Compatible Fan
PURE FAN Series
*
*
LUNA FAN Series
*
*
Odin FAN Series
*
-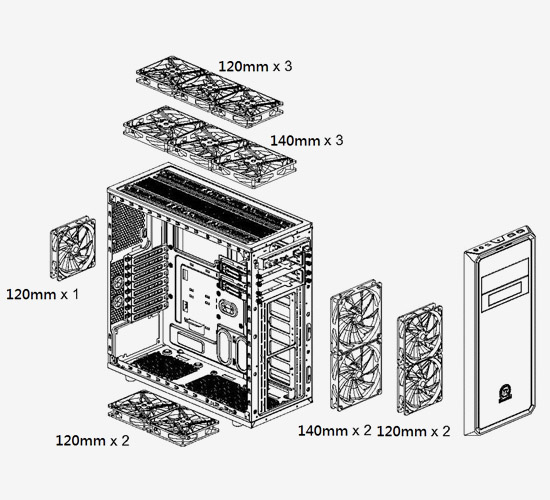 Więcej informacji
P/N
CA-1D1-00M1WN-00
Saria
Versa
Model
Versa H35

RODZAJ OBUDOWY
Mid Tower

Wymiar (Wys. x Szer. x Gł.)
470 x 208 x 506 mm
(18.5 x 8.2 x 19.9 inch)

WAGA NETTO
7.1 kg / 15.7 lb

PANEL BOCZNY
Transparent Window

Kolor
Exterior & Interior : Black

MATERIAŁ
SPCC

SYSTEM CHŁODZENIA
Front (intake) :
120 x 120 x 25 mm Turbo fan (1000rpm, 16dBA)
Rear (exhaust) :
120 x 120 x 25 mm Turbo fan (1000rpm, 16dBA)
Zatoki dyskowe
-Dostępne
-Ukryte
-Accessible :
2 x 5.25'', 1 x 3.5'' (Converted from one 5.25" drive bay)
-Hidden :
3 x 3.5" or 3 x 2.5"
2 x 2.5" (2 behind the M/B tray)
GNIAZDA ROZSZERZEŃ
8

PŁYTY GŁÓWNE
6.7" x 6.7" (Mini ITX), 9.6" x 9.6" (Micro ATX), 12" x 9.6" (ATX)

LCS Upgradable
Supports 1/2"、3/8"、1/4" water tube<br />
PORTY WE/WY
USB 3.0 x 2, HD Audio x 1

ZASILACZ
Standard PS2 PSU (optional)

WSPARCIE WENTYLATORÓW
Front:
1 x 120mm or 2 x 120mm
1 x 140mm or 2 x 140mm
Top:
1 x 120mm or 2 x 120mm or 3 x 120mm
1 x 140mm or 2 x 140mm or 3 x 140mm
Rear:
1 x 120mm
Bottom:
1 x 120mm or 2 x 120mm

WIELKOŚĆ CHŁODNICY
Front:
1 x 120mm or 1 x 240mm or 1 x 360mm
1 x 140mm or 1 x 280mm
Top:
1 x 120mm or 1 x 240mm or 1 x 360mm
Rear:
1 x 120mm

PRZEŚWIT
PU cooler height limitation:
155mm
VGA length limitation:
278mm(with HDD rack)
420mm(without HDD rack)
PSU length limitation:
180mm (With Bottom Fan)
220mm (Without Bottom Fan)