Thermaltake New Level 20 Full-Tower Chassis Astounds at CES 2018
20 years of "Delivering the Perfect User Experience"


Las Vegas, United States-January 9th, 2018-Thermaltake, celebrates the upcoming 20th anniversary by announcing the new Level 20 Full Tower Chassis at CES 2018, is located at the Venetian Hotel Veronese 2402 Suite from January 9 th (Tue) to 12 th (Fri). The Level 20 is the next generation of the legendary Level 10 Extreme Gaming Chassis, which was released around a decade ago. Within these 10 years, Thermaltake achieved several breakthroughs in terms of design and technology. Featuring a gaming oriented design with architectural aesthetics, the aluminum-made Level 20, utilizes an aerodynamic trio chamber structure to achieve ventilation and space management optimization. The Three hinged swing-doors are made with premium-quality 4mm thick tempered glass windows that provide durability and superb viewing capability. The Level 20 is installed with latest USB 3.1 Type-C port to provide 10G of transmission speed. Furthermore the Level 20 has three built in Riing Plus 14 RGB Fans and two Lumi Plus LED Strips. This can all be controlled with the included Riing Plus RGB Controller and Riing Plus RGB Software, allowing users to custom control fan speeds and lighting effects. Compatible with the latest PC hardware, AIO and DIY liquid cooling solutions, the commemorative Level 20 delivers not just an unprecedented design but also a jaw dropping performance.
Further information from Thermaltake at CES 2018 is available on our dedicated CES 2018 website: http://ces2018.thermaltake.com/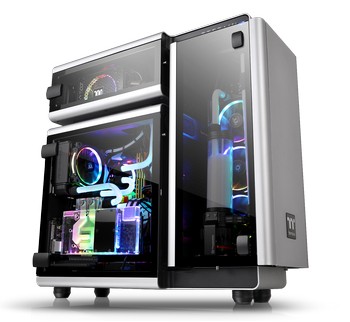 Exclusively "Tt LCS Certified"
Tt LCS Certified is a Thermaltake exclusive certification applied to products that pass the design and rigorous hardcore enthusiast standards that only the world's best LCS chassis are held to. The Tt LCS certification was created so that we at Thermaltake can clearly convey to power users and enthusiasts which chassis are built and tested to be best compatible under extreme liquid cooling configurations. This ensures you get the best performance, compatibility and features.


Features of the Thermaltake Level 20 Full-Tower Chassis: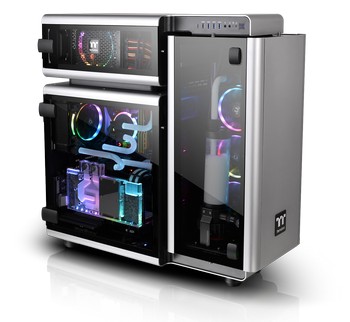 Superior Hardware and LCS Expansion
The super tower is entailed with detailed functionality and immense storage with up to eleven drive locations for 3.5" or 2.5" devices. Level 20 also supports up to E-ATX motherboards, comes with cooling fitment for CPU coolers up to 200mm in height, VGA lengths up to 310mm and PSU sizes up to 220mm in length. Level 20 enables users to build extreme air/liquid cooling systems with high-end, large graphics cards and incomparable storage.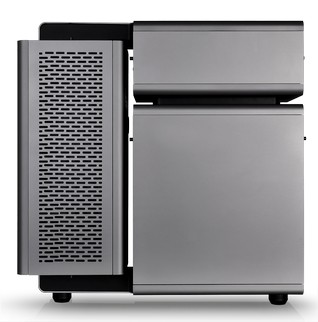 Unparalleled Ventilation
Constructed with individual chambers and aluminum mesh panels design, along with three preinstalled Riing Plus 14 RGB fans, Level 20 ensures the heat produced by each main heat source is efficiently dissipates, modulate the airflow to perfection. Moreover, the isolation of high capacity radiators and fans allows additional interior space without compromising on maximum cooling performance.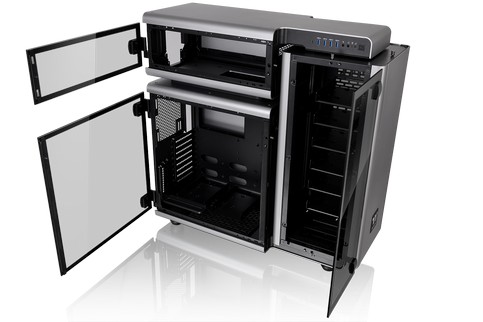 Open Aluminum Modular Structural Statement with 4mm Thick Tempered Glass
Level 20 features aluminum panels created by high precision CNC digital cutting to ensure chassis security while providing futuristic gaming essence. The aluminum anodizing process establishes water and corrosion resistant panels. The aluminum casing utilizes CNC milling technology and was sandblasted to construct elegant and sleek curves. Three hinged swing-doors with premium-quality 4mm thick tempered glass design guarantees window durability and viewing capability to encourage users to thoroughly display superb inner components.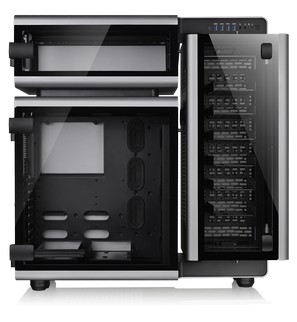 Individual Aerodynamic Chamber Design
Level 20 utilizes trio chamber design to achieve ventilation and space management optimization. By separating PSU, Motherboard, and Storage/LCS into different compartments, Level 20 creates a unique component landscape to efficiently channel the airflow away from each main heat source and to celebrate the ensemble of the individual modules.
- PSU Chamber
Level 20 supports both vertical and horizontal PSU orientations, allowing versatile placement options. The PSU chamber features aluminum mesh panel to ensure thorough airflow and ventilation of the PSU.
- MB Chamber
Level 20 assures exceptional expendability, the motherboard chamber can support up to E-ATX motherboard and 360mm radiator as well as 3 x 120 or 2 x 140 mm fans. The motherboard chamber can also institute riser cable or AIO liquid cooling systems.
- Storage/LCS Chamber
In the spirit of encouraging innovation and flexibility, Level 20's third chamber is capable of instituting powerful data management or liquid-cooling solution system. The tempered glass door is perfect for showcasing components while the aluminum mesh panel ensures supreme airflow.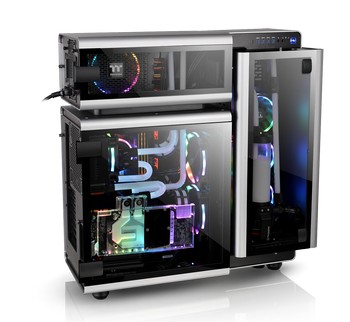 Speedy Transmission (USB 3.1 & USB 3.0)
Thermaltake does not hesitate when it comes to pursuing the latest trend in the industry that can improve our products. Level 20 is installed with USB 3.1 Type-C port to provide 10G of transmission speed. USB 3.0 I/O ports are also included.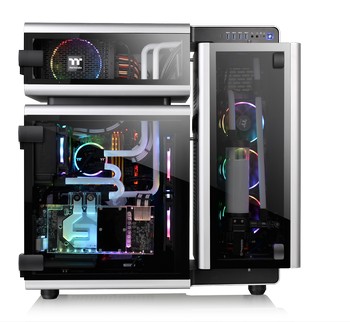 Software Controllable TT RGB Family
As the latest addition to the TT RGB Family, Level 20 incorporates three Riing Plus 14 RGB fans, two Lumi Plus LED Strips, and one Riing Plus RGB Controller; all can be monitored and customized by Riing Plus RGB Software.
- Riing Plus 14 RGB Fan
Level 20 features three built in Riing Plus 14 RGB Fans. The unparalleled patented 16.8 million colors LED rings, 12 addressable LEDs, compression blades and hydraulic bearing can be digitally controlled by the Riing Plus RGB Software.
- Lumi Plus LED Strip
Two Lumi Plus LED strips light up Level 20 with 16.8 million illumination display colors, and can be controlled by the patented Riing Plus RGB Software.
- Riing Plus RGB Controller
Level 20 comes with three Riing Plus 14 RGB fans and two Lumi Plus LED strips. Riing Plus RGB Controller allows users to monitor the fan performance, adjust the fan speeds, and customize the Lumi Color LED lighting effects for Thermaltake Plus RGB liquid cooling products.